The Madison St Patrick's Day Parade Committee is pleased to announce the Walsh Family as this year's Irish Family of the Year.


WALSH FAMILY HISTORY
From the late 1800's and through most of the 1900's, farms with Irish family names covered Westport Township: Kennedy, O'Keefe, Tierney, Fisher, Duffy, Murphy, Foley, Lynch, Fitzgibbon, O'Malley, Welsh—and Walsh. In fact, the Walsh family's original (now dilapidated) farmhouse of E. J. and Catherine (Fisher) Walsh still stands on the family's last 40 acres at the corner of Onken Road and Highway M. Our Grandfather "E.J." and Grandmother Catherine raised eight children in that house, including our Father, William P. ("Bill") Walsh.
After Dad returned from serving in WW II (82nd Airborne) he married Margaret Kalscheur from Waunakee. Dad and Mom ultimately settled in Cross Plains and raised seven children, giving each traditional Irish names: William, Jr., Margaret, John, Mary Jane, Michael, Catherine, and Daniel. Looking back, we continue to marvel at how effortlessly Mom met the challenges of rearing seven children.
Following the War, Dad partnered in business with Mom's brother until they ran out of space during the 'boom' of the late 1950's and 60's. So Dad built "Cross Plains Hardware and Appliance" and our Uncle Gene continued with "Kalscheur Implement."
Mom and Dad have since moved on to a more peaceful place, but before doing so, left each of us with an indelible impression of the importance of "family." And though our lives, marriages and children took us in different directions--San Francisco, Eugene, Oregon, Eau Claire, Madison, and Cross Plains--we regroup, as best our calendars allow, each year for Madison's St. Patrick's Day Parade. And each year the Walsh Family turnout grows with the addition of nieces, nephews, fiancés, boyfriends, girlfriends, children and grandchildren.
Our Walsh Clan includes teachers, nurses, entrepreneurs, mechanics/auto body technicians par excellence, an accountant, insurance executive, engineer (in training), executive director of a teachers association, film editor, sign language interpreter, school psychologist, military commander and a lawyer. One regret we share is that Mom and Dad aren't here to see the beauty and diversity created by their love.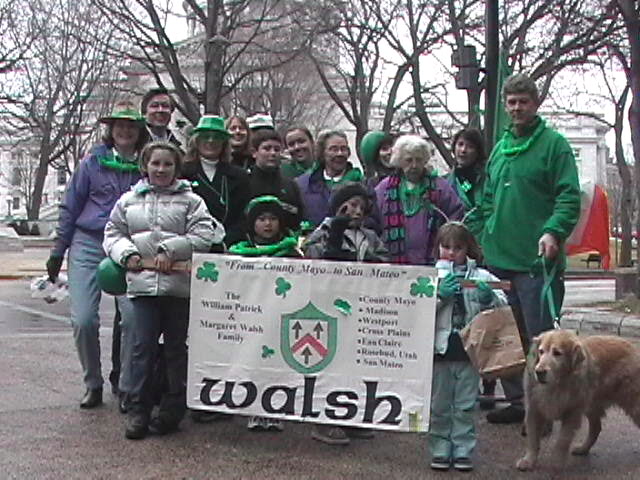 Happy St. Patrick's Day!
The Walsh Family