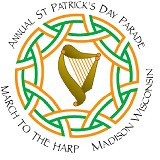 The 22nd Annual
ST. PATRICK'S DAY PARADE
Sunday, March 17, 2019
1:30 p.m.
Capitol Square, Madison, WI
PLEASE NOTE: The Shamrock Shuffle is on Saturday but the Parade is on Sunday.

Céad Míle Fáilte
One hundred thousand welcomes

Welcome to Madison's St Patrick's Day Parade 2019 celebration! It's time for 'the wearing of the green!"
The St. Patrick's Day Parade Committee invites you and your organization to participate in the 2019 parade around Madison's beautiful Capitol Square.
We welcome sponsors, parade entries, volunteers and spectators to participate as we celebrate the Irish culture.

Register to be in the Parade

Volunteer for the Parade

Parade proceeds will be donated to local charities!
Check out all our supporters by visiting our Corporate Sponsors and Contributors pages.





Brought to you in part by: