Meet the famous Leprechaun,
Joe Herr
He'll be at the parade on Sunday March 12, 2023
He mysteriously appeared into our lives and we haven't been the same since!
Joe Herr, aka, Sean Patrick is a Leprechaun with personality and goodness of immeasurable proportion! His eyes sparkle with mischief, he is wise beyond his years, and his heart glows with vast goodness.
Joe decided 15 years ago to dedicate himself to helping improve the quality of life for families with disabled children. After the grave loss of his son, Logan, Joe started the Logan's Heart Smiles Foundation and began raising money to construct wheelchair ramps for numerous appreciative families in the Madison area.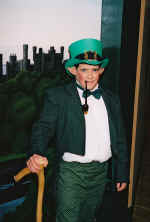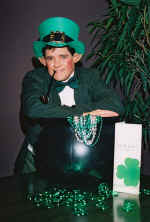 His current supervisor, Tom Thayer, owner of Tri-North Builders, is a current board member for the United Cerebral Palsy Foundation. During the busy weeks leading up to St. Patrick's Day, Tom graciously supports Joe and his many efforts to assist the St. Pat's Parade Committee and UW Comprehensive Cancer Center.
For a slight or generous donation, Joe will appear at local establishments on or near St. Pat's Day. Come to the parade on Saturday March 18 and meet him in person!
If you would like to have Joe appear at your establishment, please contact Joe directly at 204-7215.
Visit the Logan James Herr Foundation at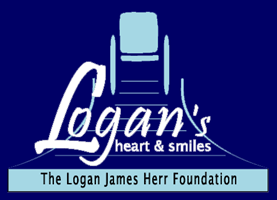 Photos taken at Kelly's Grille, Fitchburg, WI