The Madison St Patrick's Day Parade Committee is pleased to announce the Kelly Family as this year's Irish Family of the Year!


KELLY FAMILY HISTORY
The Ron Kelly family has deep Irish roots in Madison and Ireland. We sadly lost Mary Kay, our Irish Matriarch, on January 8th of this year. She instilled a strong sense of Irish Catholic pride into her family. Mary Kay was 100% Irish and would have been thrilled to walk in the Madison St. Patrick's Day Parade. She loved to talk of her heritage, dance the jig, and wear shamrocks daily with a smile.
Mary Kay's mother, Margaret Boyle, came to the U.S. by boat in the early 1900s when orphaned at age 12 from Castlebar, County Mayo. She married Neil Cafferty who was a vice president of the UW-Madison. Neil's family was from County Cavan in Ireland and Elroy WI. They raised 2 daughters, Mary Kay and Peggy, on Virginia Terrace. Margaret's twin sisters, Nellie and Kate also came over from Ireland. Kate's son Jake Burke was a US ambassador to Guyana in the 1970s.
Ron Kelly and brother Jack were born to Esther Disch and Sylvester Kelly. Sylvester's Great Grandfather, Thomas Kelly and family came to the US from Dublin and Kilkenny. The family faced some hardships not uncommon at that time. Sylvester's mother, Elizabeth, died in 1914 of TB when he was ten. His father, George, had quit his job at the railroad to care for his wife, and was forced to put his sons into St. Aemilian's Orphanage. George died at the "Poor Farm" in Fitchburg in 1957. Sylvester married Esther in 1930 and they divorced in 1934. Sylvester died in 1957. Ron and Jack were raised by their strong mother who worked at the Madison Parks Department for 40 years. There are a few first and second cousins currently residing in the Madison area. Sheilagh Kelly (Mike Lien), a first cousin lives in Blanchardville.
Mary Kay Cafferty met Ron Kelly at the Ice Cream Shop on Regent. Mary Kay went to Edgewood and Ron to West. They graduated from UW. Ron worked at Oscar Mayer for 35 years and retired as Vice President of Operations. He started his own executive search firm, Kelly & Associates. He has been a Western Golf Director/board member for 25 years. He is actively consulting and volunteering today. Mary Kay was a part time accountant, and Life Master bridge player partnering with her sister, Peggy. They raised five children with traditional Irish names: Daniel Patrick (Terrie), Megan Kathleen (Bill Tyner), Timothy John (Connie), Patrick Dennis (Tiffany) and Peggy Ellen (Roger Gierhart) Kelly. They have 16 grandchildren.
Ron's brother Jack Kelly married Lee McGann. They graduated from UW. Jack sold life insurance at his own agency, Equitable of Iowa and is active today with Kelly Financial. Lee's Irish family originated from County Cork. Her parents were Louis and Nola (Gallagher) McGann. Her sister is Kaye Waggoner. Nola's father, Albert Gallagher was head of the Fish Hatchery in Madison. Louis' father owned McGann furniture in Baraboo. Jack and Lee raised five children in Madison: Susan Lynn (Joe Gambardella), Scott Edward (Gigi), Carrie Ellen (Peter Waite), Patricia Jean (Sather Ranum) and Jerry Patrick (Carol) Kelly. They have 6 grandchildren and 2 great-grandchildren. Jack and Lee have instilled the love of golf into the extended family.
Peggy Cafferty, Mary Kay's sister, married Michael Dean. They graduated from UW. Mike sold insurance for over 40 years. Mike's parents were Joe C. Dean and Alice O'Neill. Alice had deep Irish roots. Mike's grandfather, Dr Joe Dean Jr., started the Dean Clinic in Madison. Mike's father Dr. Joe C. Dean and uncle Dr. Frank Dean helped build the clinic. Mike's great grandmother's family (Donovan) was from County Tipperary and Cork. Mike has 2 brothers, Joe and Tim Dean, whose families reside in Madison and a sister, Dinny Dean in California. Mike and Peggy have 3 children: Michael Joseph (Patty), Kyle Charles and Ellen Cafferty (Jim McNeary) Dean. They have 5 grandchildren.
The children and grandchildren of the Kelly and Dean family reside all over the country. The hard work and Irish determination inherited from both sides of the family has resulted in a wide diversity of career and service. Most importantly, they cherish love and loyalty of family. They hope to carry on the strength, good will and tradition of their Irish ancestors from Madison.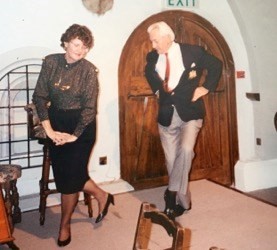 Ron and Mary Kay Kelly dancing the Jig at Ashford Castle in Ireland
Happy St. Patrick's Day!
The Kelly Family